Yoga deck
The Good Earth Cafe
Bar & Restaurant Rimba
Swimming pool
Yoga classes are available with Dorothy Ang from Langkawi Yoga, a qualified yoga instructor
Special cooking classes
Private dinners with personal chef
Champagne breakfast (not available in 2-bedroom cottages)
Herb garden tours
Please ask any of our staff or write to us at This e-mail address is being protected from spambots. You need JavaScript enabled to view it if you would like to know more about these activities
If Ambong Ambong is about getting away to relax then the spa is the balm to soothe the body and revitalize the mind.
Located within the grounds, the award-winning Ishan Malaysian Spa is a blissful haven to indulge yourself with a variety of treatments under trained therapists. From the soothing to the reinvigorating, only the freshest ingredients, traditional herbs and spices are used.
Drift off in the serene atmosphere of Ishan and emerge renewed. From Ayurvedic hair treatments to eye masks to full body massages, the wide range of therapeutic treatments available ensures there's a rejuvenating experience awaiting everyone.
Ishan Malaysian Spa also offers in-room spa treatments. Please speak to the Manager about arranging an appointment for you.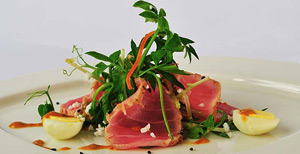 The award winning restaurant has been listed every year since 2005 in Malaysia's Best Restaurant Guide and is known for excellent food, superb service and friendly staff.
Famed for its fresh seafood, the Japanese chef will prepare for you in any of the Japanese styles – sashimi, shioyoki (in salt), terriyaki (with sweet sauce) or teppanyaki.
Unkaizan also offers a wide range of modern and traditional Japanese dishes, sushi and sashimi and excellent grilled steaks, catering to varied tastes from the adventurous to the more simple.
Special menus can also be arranged if you have a special occasion you wish to celebrate.
There is a carefully chosen wine list and a range of specially selected Japanese sakes.
Enjoy the cool sea air and spectacular views of the sunset over the Andaman Sea as you dine on the outdoor terrace, one of the three dining areas.
Alternatively, if you prefer the indoors, there is the air-conditioned main dining room.